Asian Grilled Pork Tenderloin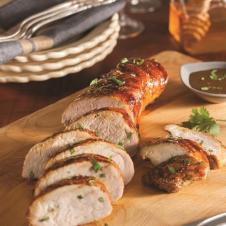 Makes 6 Servings
2 pork tenderloins (about 3/4 lb. each)
Chopped fresh cilantro, for garnish
1/3 cup soy sauce
1/4 cup honey
1/4 cup fresh lime juice
2 Tablespoons olive or vegetable oil
3 cloves garlic, finely chopped
1 Tablespoon curry powder
1 Tablespoon grated fresh ginger
1/2 teaspoon ground black pepper
In a small bowl, combine soy sauce, honey, lime juice, oil, garlic, curry powder, ginger and black pepper; mix until well blended. Place pork tenderloins in a plastic bag; pour marinade over pork in bag. Close bag tightly; marinate in refrigerator for 1 hour or up to overnight. Remove pork from marinade; reserve marinade. Grill over medium coals 20 to 25 minutes for medium doneness, turning after first 10 minutes. Meanwhile, place reserved marinade in a small saucepan. Bring to a boil; reduce heat and simmer 5 minutes. Serve with sliced pork; garnish with cilantro.
Prep Time: 15 minutes
Bake Time: 1-1/2 hours
Tip: For a vegetarian version, replace pork with 1-1/2 pounds of extra firm tofu, cut into 1/2-inch slices; marinate as directed. Grill over medium coals 6 to 8 minutes, turning once.
Nutrition: 170 Calories * 6 g Fat Total * 5 g Carbohydrates * 66 mg Cholesterol * 349 mg Sodium * 24 g Protein * > 1 g Dietary Fiber *

Recipes from The National Honey Board