Cajun Tomato Bread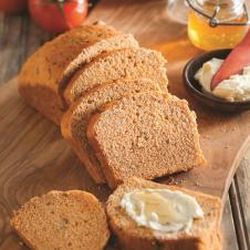 Makes 2 loaves
1 cup Bloody Mary mix (or spicy tomato juice)
1 cup water
1 package active dry yeast
1/3 cup honey
1/4 cup vegetable oil
1/4 cup chopped green onion tops
1/4 cup chopped parsley
1 clove garlic, pressed
1 teaspoon salt
5-1/2 cups flour, divided
In small saucepan, combine Bloody Mary mix and water. Cook over low heat to 105-115 ℉.

Pour into large warm mixing bowl and add yeast; stir until dissolved. Add honey, oil, onion tops, parsley, garlic and salt; mix well. Add 1 cup flour and stir until smooth. Stir in more flour until a firm dough is formed.

Knead on a lightly floured board about 5 minutes. Shape into a ball and place in a large greased bowl; turn to grease all sides. Cover bowl and set in a warm place to rise for 1 hour or until doubled in size.

Punch dough down and divide into 2 equal parts. Shape each piece into a loaf and place in a greased 9x5x3-inch loaf pan. Cover and let rise in a warm place about 1 hour or until doubled in size.

Bake at 400 ℉ about 30 minutes or until loaves have a hollow sound when tapped and crust is brown. Remove from pans and cool on wire rack.

Recipes from The National Honey Board