Chinese Beef and Tomatoes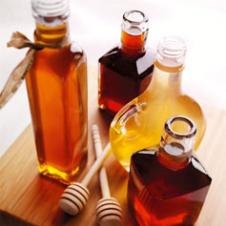 Makes 8 Servings
1/3 cup honey
1/3 cup soy sauce
1/4 cup vegetable oil, plus 1 Tablespoon, divided
2 cloves garlic, minced
2 Tablespoons grated fresh ginger
1/2 teaspoon salt
1/2 teaspoon pepper
1-1/2 lbs. top round steak or flank steak, thinly sliced across the grain
1 bell pepper, sliced
1 Tablespoon cornstarch
1 cup fresh bean sprouts
2 medium tomatoes
Combine honey, soy sauce, 1/4 cup oil, garlic, ginger, salt, and pepper in a shallow bowl or plastic gallon zipper bag; mix well. Add steak to marinade and toss together; refrigerate 15-30 minutes.

Heat tablespoon of oil in a heavy wok or large skillet. Add peppers and stir-fry 1-2 minutes.

Drain beef and reserve marinade. Add beef to wok and stir-fry until browned, stirring often.

Add cornstarch to marinade; mix well and add to wok. Bring to a boil, then add bean sprouts and tomatoes and continue to cook 2-3 minutes more, until sauce thickens slightly. Serve hot, over rice if desired.

Recipes from The National Honey Board