Devilish Pecan Pie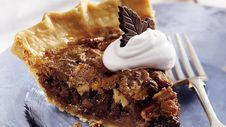 Makes 8 Servings
1-1/2 cups coarsely chopped pecans
6 oz. semi-sweet chocolate chips
1 9-inch unbaked pie shell
3 large eggs
1 cup honey
1/2 teaspoon vanilla
1/4 cup butter or margarine, melted and cooled
Sprinkle nuts and chips over bottom of pie shell. In medium bowl, whisk together eggs, honey and vanilla. Blend in butter and pour mixture into pie shell.
Bake at 325°F for 50 to 60 minutes or until firm.
Serve slightly warm or at room temperature.
Serving Suggestion:
May be served with whipped cream or ice cream.

Nutrition: 490 Calories * 30 g Fat Total * 5 g Protein * 95 mg Cholesterol * 50 g Carbohydrates * 85 mg Sodium * 1 g Dietary Fiber * 55% Calories from Fat *

Recipes from The National Honey Board