Fireweed Honey French Toast with Powdered Sugar & Lime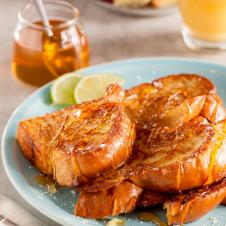 Viva Variety Recipe Contest Runner-up
Light Category: Danielle Custer
Makes 4 to 6 servings
12 slices (3/4 inch) Challah bread
1 cup whole milk
1/3 cup Fireweed honey (or any light-bodied honey such as Clover), plus additional for drizzling
3 eggs
1/2 teaspoon ground cinnamon
nutmeg
1/4 teaspoon vanilla extract
4 to 6 Tablespoons butter, divided
2 limes, each sliced into 4 wedges lengthwise (8 wedges total)
Powdered sugar, for dusting
Preheat oven to 350°F.

Lay bread on a cutting board or other surface to dry out slightly. To prepare the French toast batter, heat the milk with the honey over medium heat until the honey dissolves; cool slightly. With a fork, lightly whisk the eggs. Add the milk mixture, cinnamon, nutmeg and vanilla; continue mixing until uniform in color. Heat a large skillet over medium heat. Add 1/2 Tablespoon of butter and melt. Quickly dip 4 bread slices into the egg batter, coating both sides. Add to hot skillet and cook for about 3 minutes on each side or until golden brown and cooked through. Place French toast on a plate and keep warm in the oven. Wipe out the skillet with a paper towel and repeat with the remaining butter and bread.
Serving Suggestion: Place half of the French toast in the center of 6 plates. Top with remaining slices, slightly off set, and spread 1/2 teaspoon of butter on each slice. Place powdered sugar in a small sieve and lightly dust the French toast. Squeeze 1 lime wedge over each plate of French toast. Drizzle with remaining honey. Place additional wedges on a plate in the center of the table for extra garnish.

Tip: Cook's Note: With a fork, whisk the egg batter just before dipping each piece of bread to break up the cinnamon on the surface and create a more uniform allocation of cinnamon and better general appearance.
Serving Size: based on 6 servings
Nutrition: 444 Calories * 59 g Carbohydrates * 18 g Fat Total * 2 g Dietary Fiber * 178 mg Cholesterol * 12 g Protein * 447 mg Sodium * 37% Calories from Fat *
Fireweed Honey French Toast
(Croque Monsieur/Madame Variation)
Makes 4 to 6 servings
See Fireweed Honey French Toast with Powdered Sugar & Lime
Omit the cinnamon and vanilla from the above recipe.
Lay 2 or 3 thin slices of cured ham and a slice of aged Gruyere cheese between 2 slices of Challah. Dip the sandwiches in the honey-egg batter. Cook the sandwiches until they are golden brown and the cheese has melted.
Serve as is or with a poached egg on top.
Nutrition: 525 Calories * 59 g Carbohydrates * 23.5 g Fat Total * 2 g Dietary Fiber * 206 mg Cholesterol * 20 g Protein * 748 mg Sodium * 40% Calories from Fat *

Recipes from The National Honey Board