Orange Honey Sponge Cake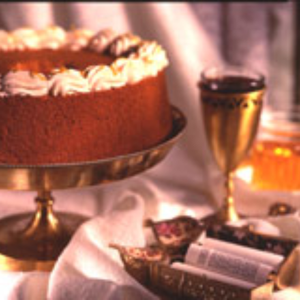 Makes 12 servings
6 eggs separated
1/2 cup granulated sugar
1/2 cup honey
2 Tablespoons orange juice
1-1/4 cups flour
1 Tablespoon grated orange peel
1-1/2 teaspoons baking powder
1/4 teaspoon salt
Honey Whipped Cream
Grated orange peel for garnish
Honey Whipped Cream
1/2 cup cold heavy whipping cream
2 tablespoons honey
1/2 teaspoon vanilla extract
Beat egg yolks until very light; gradually beat in sugar. Beat in honey and orange juice. Combine flour, orange peel, baking powder and salt; mix well. Gradually add to yolk mixture; stir until blended. Whip egg whites until stiff but not dry; gently fold into batter. Pour batter into ungreased 9-inch tube pan.

Bake at 350 ℉ about 45 to 50 minutes or until cake springs back when lightly touched on top. Invert pan on a sturdy funnel or bottle and let stand about 1 hour or until completely cool. Loosen cake from pan with thin spatula or knife blade; invert cake onto cake dish. Pipe Honey Whipped Cream, using pastry bag, along outer edge of top of cake; sprinkle with orange zest, if desired.

For the whipped cream: In a large mixing bowl (with whisk attachment if using a stand mixer), beat the heavy cream until thickened. Gradually beat in the honey and vanilla then continue beating until stiff peaks form (when you pull the beater up, peaks will form and not fall over).

Recipes from The National Honey Board